[NEW] 500PRE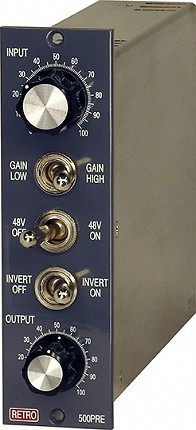 We took the circuit topology of the Sta-Level and packed it into a single width 500 module. The 500PRE three tube gain stage exhibits the same detail and depth. As with all Retro products, the feeling of the musical performance is delivered with the Retro Instruments 500PRE. Distortion, Noise and Frequency Response of the 500PRE are outstanding; but overload characteristics are not generally revealed by standard measurements. The 500PRE tubes gracefully limit the signal at +18 dBu. Whether you're just going for clean gain or pushing the 500PRE into overdrive, it won't ever sound plastic and brittle like solid-state amplifiers can. Transient detail is unrestrained.
The Retro 500PRE doesn't sleep when you're done tracking. Use the 500PRE as a high-energy limiter during mix-time. The 500PRE design purposely has the limiter effect of tube amplifiers. You'll love to use it as a limiter to fatten all kinds of tracks.
The Retro 500PRE works within API 500 rack power limitations. Each 500PRE consumes 160 ma of power, slightly above the 130 ma VPR-compliant allocation. We recommend racks with quiet linear power supplies like the API models. When power requirements are observed, the rack and 500PRE will provide years of reliable service.
The Retro 500PRE uses three 12AT7 tubes that are readily available as new production or new-old-stock. A user can select from a wide variety. Your unit uses the new production TAD 12AT7 and these tubes are expected to last for a very long time under the 500PRE operating conditions. We use soft-start circuitry that minimizes stress to the tubes and power supply. The 500PRE takes less than a minute to warm up and perform.
Specifications
Front Panel Controls: Input Level, Gain Select (two or three stage amplifier), Phantom Power, Polarity, and Output Level.
Input and Output Connections: On edge card connector for 500 rack XLR.
Gain: 48 dB (low gain two stage topology) 76 dB (high gain three stage topology)
Total Harmonic Distortion: <.05% at +4 dBu output from 20-20000 Hz.
Frequency Response: +/- .25 dB from 20-20000 Hz
EIN: -128 dB (150 Ohm terminated)
Typical Output Level: +4 dBu
Output Clipping Level: Tube limiting Threshold +18 dBu, +24 dBu clipping headroom.
Input Level Range: -72 dBu to +12 dBu
Input impedance: >1000 Ohms from 20-20000 Hz.
Output Impedance: 600 Ohms Transformer Balanced.
Power Consumption: +/-16 Volts 155 ma. 48 Volts 3 ma.
Weight: 2 lbs 7 oz.
Reviews
briandanehansen.com

June 27, 2020

I plugged my Nash P63 into a Radial ProD2 and then reached for the input knob. Tube pres and bass guitar have always gone together in my book, and the 500PRE was no exception to that! I chose two different genres to show off how this pre could work for a rock track or a more soul/r&b melodic bass track. The rock track tune I play a pass with my fingers and then a pass with a pick so you can hear the different bass playing styles that this unit handles with ease.

- Brian Dane Hansen See more...

Vintage King

November 8, 2019

While the 75 dB of gain will make the 500PRE a great tool for tracking sessions, the 500 Series module can also be vital during the mixing process. Remember, the 500PRE is based on the Sta-Level, which is a classic limiter design.

- Eric Allen See more...

barryrudolph.com

11-22-2019

I tried my single 500PRE for both the vocal track and the acoustic guitar recordings separately. On the vocal, I used the Low Gain position set to about "50" position and the Output control varied from 50 up to full for quieter bits and the cleanest sound. The Output control works just like using the fader on a recording console. For some light compression, the 500PRE's output was patched into another favorite of mine, the Retro Instruments 176 Limiting Amplifier. This is a glorious combination that I can recommend to any engineer looking..

- Barry Rudolph See more...
What people are saying about the Retro Instruments 500PRE
"First thing I want to tell you is the 500 pre is absolutely amazing! It's one of the best vocal mic pres I've ever used! I will want to buy this one you've sent me and get a second one soon. Congrats on a brilliant effort. I really can't say enough good stuff about this pre.. I'm using a u47 > Retro 500PRE > Retro 176 on lead vocals and it's killing it!"

Jacquire King

Grammy-Winning Producer & Engineer