176 Limiting Amplifier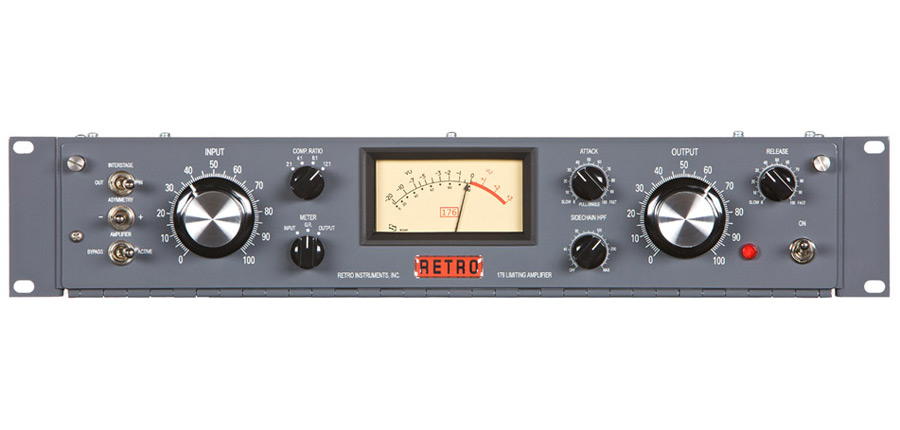 Description
The Retro Instruments 176 is based on a Bill Putnam classic, the UA 176. The 176 faithfully reproduces the sound of the 1960s original with new features for the modern recording studio. The Retro Instruments 176 provides one of the most desirable compression signatures in recording history.
Learn more about the Bill Putnam original.
Features
Authentic variable-mu tube design
Precision Knob scales for easy recallability
Continuously variable attack and release time
Four settings of compression ratio from soft compression to limiting (2:1, 4:1, 8:1, 12:1)
Wide-Range Sidechain Highpass Filter
Vocal Asymmetry Tool
Hard-wire Bypass Switch
Interstage Transformer Bypass Switch
High Quality VU Meter switchable between Input, Output and Gain Reduction
XLR input and output connections
IEC power connector
115/230V AC Mains
Integral tube balance test
Easy stereo strapping of two or more units
Selected NOS tubes and components
Specifications
20 dB of available gain reduction
Signal to noise ratio of greater than 76dB
Flat frequency response within 0.5dB from 20-20,000Hz
Harmonic Distortion of less than 1% from 0-15dB gain reduction
Reviews
Seawell Studios

Feb 10, 2021

Retro Instruments 176 Review (THE best vocal compressor ever?)

I think the Retro Instruments 176 is the best vocal compressor ever made! It combines the tone I love in a great vari mu compressor with the speed similar to a FET. It's truly the best of both worlds to me. Check out this review and see if you agree!

- Seawell Studios See more...

Vintage King Audio

Jul 1, 2015

Retro Instruments 176 Limiting Amplifier Overview by Sweetwater Marek Stycos from Audio Alchemist presents the Retro Instruments 176 tube limiting amplifier. The Retro 176 is a faithful re-creation of the Bill Putnam's 176, which paved the way for the legendary 1176. The Retro 176 gives you precise dynamic control with a wide sonic range: use it to just clamp down on peaks, or push it hard to add energy, excitement and brightness. For drums and bass especially, this is an incredibly fat-sounding dynamics controller.

- Marek Stycos See more...
What people are saying about the Retro Instruments 176
"I put the Retro Instruments 176 in the same class as its legendary inspiration. There are only a handful of compressors that everyone can agree are desert island worthy, time will prove this to be one of them. It's a perfect vocal tool, now I can't imagine mixing without it"

Jacquire King

Grammy-Winning Producer & Engineer

"Phil Moore did a great job! Bill Putnam would smile!!! The Retro Instruments 176 has become my first choice for lead vocals, it now stands alone at the finish line!"

Chris Lord-Alge

Grammy-Winning Producer & Engineer

"Just wanted to thank you for the AMAZING Retro Instruments 176, the vocals on is wawwwwwwwww! Cheers!"

Jean Marie Riachi

Grammy-Nominated Producer & Engineer